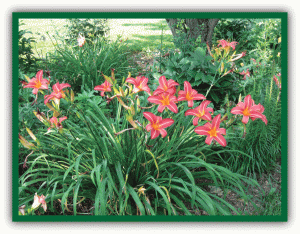 The extra plants for sale come from named varieties, plants given to me by friends and neighbors, the names of which have long been forgotten, or never known. There are also varieties, the name tags of which were long carried away by deer. A couple of years ago I started to hybridize my own plants, just for the fun of it. Should these plants become worthy, they could be sold in the future. However, I have no intention of registering any of these crosses. My intention is to keep the whole experience fun. With so many currently registered varieties, it would have to be a very, very special plant to warrant the extra work involved.   I'll leave this to the professionals for now.
The daylily plants are field grown and dug at the time of purchase.
All plants are for sale at the same price, whether they are named varieties or not. I am currently growing over 250 varieties, however not all of these will be for sale at one time. As the plants need dividing, they will become available for purchase. We sell at least two fan divisions and clumps when possible.
Bonus plants will be given based on the dollar amount purchased. Five percent of all sales will be donated to the Days End Farm Horse Rescue, Woodbine Maryland, www.defhr.org.
Since my husband and I are retired Maryland State Government employees and had to undergo salary freezes, no cost of living raises and furlough days during our careers, we offer a 10% discount on daylily purchases to fellow State of Maryland Government employees, with a valid State ID.
The Cats Meow Daylily Garden is open July of 2023 by appointment Only.
Sale bed plants only now 50% off.
Price for a minimum of two fans or clump
of Daylilies $12.00
including 6% MD sales tax.
2023 SALE  Daylily Plant List
Selected Display Plants for sale plus the following.

Apache Madness
Apache War Dance
Ashcombe's Taste of Sherbet
Ashville Summer Breeze
Ashwood's Rings of Saturn
Becky Lynn
Bicolor Beautiful
Bitter Sweet Destiny
Blue Martini
Bold Tiger
Charles Johnston
Condilla
Corinthian Pink
Cranberry Fields
Cretaceous Crunch
Dark of Night
Dances with Giraffes
Decatur Cherry Smash
Eyelashes
Enchanting Emma
Final Touch
Forsyth Dark Eyes Blink
Goldeneye
Hawkwoman
Heavenly Snow Drift
Hello Screamer
Her Best Bloomers
Indian Giver
Little Maggie
Jolly Lad
Lake Norman Spider
Lexington Avenue
Little Audrey
Lusty Lealand
Mahogany Magic
Marse Connell
Mauna Loa
Mormon Yellow
Morning by Morning
Move Over
Neal Berry
Nina Winegar
Pardon Me
Pink Enchilada
Prairie Blossoms
Prairie Blue Eyes
Rainbow Eyes
Royal Celebration
Running with Scissors
Sellstation Campfire
Sellstation Friendship
Sellstation Hot Lips
Siloam Baby Talk
Siloam David Kirchhoff
Siloam Frisbee
Siloam Ury Winniford
Small World Breanna
Snow Wonder
Soft Summer Nights
Sound and Fury
Spider Man
Susquehanna One Step
Tomorrow's Heartache
Tropical Depression
Trevi Fountain
Two Janes
Unchain My Heart
Virginia's Heart
White Temptation
White Tuxedo
Wild Wookie
Woodside Warrior